Great new panel over at XKCD:
[caption id="" align="alignnone" width="460" caption="XKCD comic: Faust 2.0"]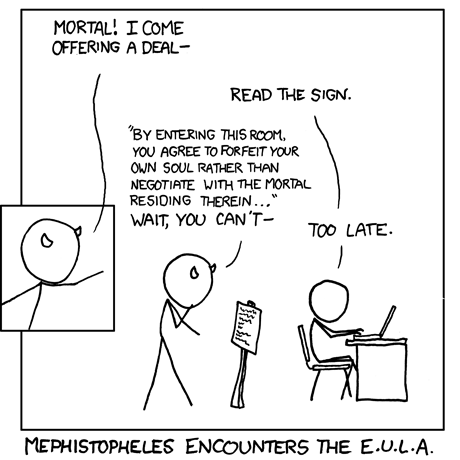 [/caption]
We've all been annoyed (at least) and possibly troubled by the reams of legal text that accompany any software installation, along with a little box that says, "I agree." I've often wondered whether or not any enterprising and/or disgruntled legal hack may have inserted fantastically oddball text into the 172nd line of a 302 line agreement. Something along the lines of, "The purchaser of this software understands that he/she is a figment of the One Programmer's imagination and, as such, has no rights other than those of evasion and escape during the Time of Cleansing."
Be that as it may... there are, of course, legitimate copyright and use concerns about EULAs. On the other hand, there are legitimate concerns about protecting the rights and survivability of software companies. If it were legal to copy and sell other people's intellectual property without bearing the costs of development, it would be very hard to, well... bear the costs of development.
There are, of course, wonderful Open Source and freeware programs out there. But, as we move more of our life into the infomediasphere, I think that we'll be ever more confronted with these issues. We don't understand what goes into our tools, how they work at a base level, and so can be legitimately confused about their operation... but yet, we won't stop using them.
My current car is the first I've ever owned with anti-lock brakes. These are (I am told) a wonderful safety improvement. The guy who sold me the car reminded me, when I told him that I hadn't driven an ABS equipped car before, "Don't pump the brakes. Just brake. The ABS does the pumping."
But, of course, the first time I got into an icy, skiddy situation... I pumped the brakes. Even when I remembered what I was supposed to do -- I consciously though, "Don't pump the brakes, idiot!" -- I still pumped them. I've been driving since 1983, and 25 years of brake pumping on New England and New York roads is ingrained in my left shin.
I was not killed. I didn't spin out or anything bad. And, over the past three years, I've gotten better at remembering (and being able) to not pump the brakes.
But what if I had gotten into an accident because of it? Could I claim that I hadn't been adequately educated or trained by the dealer or manufacturer? That I should have had an option to turn off the ABS since I have a near-hypnogogic need to pump the brakes? What if the salesman hadn't told me anything? What if i thought "ABS" stood for "Accurate Balanced Steering?"
In short, what if I was dumber or unluckier than I am/was?
There is a fine line between the responsibility of manufacturers and that assumed by consumers. Obviously, if a product fails to do what it's meant to do, and the maker knows it, there is lots of room for real anger and legal recompense.
And, on the other side, we all scoff at the tales of people who sue the maker of a butane lighter because it caused something to catch fire. Right. Because normally you buy a lighter just to make that cool, "scrrttch" noise when you roll the wheel. The fire thing is a side effect...
But that middle area is pretty wide, isn't it? In one of the cases linked to from the Wikipedia article on EULA, a judge ruled that a software manufacturer wasn't liable for damages when a customer used the software to create a contracting bid that was, ultimately, way too low. The software (according to the buyer) malfunctioned, and the bid recommendation it provided ended up $1.95 million less than it should have been. The EULA stated (as usual) that the software maker was not liable for damages beyond the purchase price of the software; in effect, the software is not warranted to be accurate or without flaw. It is up to the user to, essentially, check his/her work.
I was most interested in the comment from the judge in the case who said:Â 
... if this case had arisen in 1985 rather than 1997, I might have a different ruling' but 'the facts in this case are such that even construing them against the moving party, the Court finds as a matter of law that the licensing agreements and limitations pertaining thereto were conspicuous and controlling and, accordingly, the remedies that are available to the plaintiff in this case are the remedies that were set forth in the licensing agreement . . . 
As stated repeatedly, I'm not a lawyer. But it's fascinating (to me) that part of what the judge was judging was the reasonableness of the plaintiff's case based on how long we've been using software with licenses. It amounts to saying, "Come on... if you don't know by now that the use of the software is your responsibility, you're just not paying attention."
I'm supposed to know (by now) not to pump the ABS brakes. We're supposed to know that software comes with limited liability. We're supposed to know that, unless otherwise specified, you're not allowed to copy and/or resell intellectual property that's not yours.
I like the XKCD comic that started this chain of thought for me. It is, as they usually are, funny and poignant. On the other hand, if you think the devil will actually be bound by a EULA, you're in for a nasty surprise.
Most of the stuff in many EULAs I've actually read is meant to remind the user of the applicable law. In some cases, they overreach and attempt to create contract requirements where existing legal (usually copyright) issues are vague or don't favor the publisher. Most users, however (including me), don't understand all the nuances. We just want to download, install and run our new software as quickly as possible. Yes, yes, yes... I agree. Blah, blah, blah. Fine. Click.
I do think we need clearer laws about copyright. And I do think that some of what goes into EULAs is a stretch and, probably, overreaching. On the other hand, as someone who believes in personal responsibility... I know that if I want to use a product, I should either know what I'm getting into... or accept the consequences of my ignorance.
The problem with the XKCD comic is that it's probably at least as dangerous to own the devil's soul as it is to negotiate with him for yours. We can remain vigilant. We can accept responsibility for what we do. Or we can become the devil.
I'd rather just have the brakes work well.